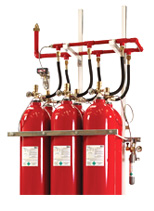 GSS Systems, Saudi Arabia
Gulf Star Security & Safety Systems got established in 1991 to supply and install fire protection, detection and security systems in Jeddah, the location being in Sitteen Street, Enaikish, Jeddah, Saudi Arabia.
Within a very short time, GSS has grown into a trusted, reliable and quality brand dealing fire protection and security systems in Jeddah and other parts of western region of Saudi Arabia.
1994 witnessed a remarkable achievement by GSS when the first major halon alternative systems (86 Inergen Systems by ANSUL) was commissioned at Taiba 1 Tower Madinah
GSS has signed the distributorship agreement with FIKE Corporation U.S.A for dealing with all fire suppression and fire alarm systems in 1997.
GSS is the only total fire and security provider innovative and willing to adapt to customer require the best fire protection and security systems meeting local and international standards having experienced and trained staff to deal with any sort of requirements from the clients.
The system design and installation are according to the relevant International Codes and Standards such as NFPA, ASIS, LPCB, local Civil Defense regulations, etc.,
GSS is approved by Civil Defense, Ministry of Interior, Saudi Industries Development Fund, Saudi Electric Company, Saudi ARAMCO, Saudi Telecom Company, etc.,
GSS expanded its wings by successfully completing a Joint Venture with Saudi Binladin Group

the giants in the Construction and Building Industry.
GSS successfully completed a few projects in Qatar proving that GSS can easily carry out projects outside Saudi Arabia successfully.
GSS has got a sister concern in Egypt called International Security & Safety Systems, a leading company in the same field with a UL listing– the only UL listed company in Egypt – Foam Blending Facility. www.iss-egypt.org
Please be assured that when you buy from GSS, you are buying quality and reliability of course along with safety and security!!!